As a youngster, I used to watch a lot of Fashion Television, especially since there was nothing else showing on tv on a typical sunday afternoon, other than second rate foreign cartoons and eye-crippling evangelist programmes with parading pastors cart wheeling across the stage. Eventually, I began seeing stuff I liked or would wear, and slowly the dazzling images of high-end fashion began to soak into my premature haute couture sensibilities. I also noticed that, on several episodes, standing out amongst the mesmerizing forest of rail thin supermodels and the underbrush of petite, bombastic designers, was one overtly large and relatively eccentric black man. I came to learn that his name was André Leon Talley, and that when it came to the fashion world, he was, and is, pretty bad ass.
Born on October 16, 1949, André Leon Talley is the former American editor-at-large for Vogue magazine, listed as Contributing Editor in the April 2010 masthead. He's been a front-row regular at virtually every major fashion show in New York, Paris, London and Milan for more than 25 years[1], and he uses his influence to promote young fashion designers and mentor young talent in the fashion field.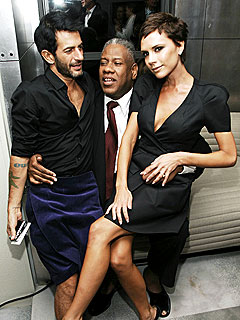 His most famous pairings of late have been with designers Tracy Reese, Rachel Roy and singer/actress Jennifer Hudson, as well as being known to be the very close friend of pop diva Mariah Carey, fashion designer Kimora Lee Simmons and tennis star Venus Williams. In 2007, he was ranked 45th in Out magazine's "50 Most Powerful Gay Men and Women in America".[2] Talley has an honorary Doctorate of Humanities from Savannah College of Art and Design, where he serves as a member of the Board of Trustees; and, in March 2010, Talley began serving on the judging panel for America's Next Top Model.
Max Mara – MFW Womenswear Spring/Summer 2009
Early life
Talley was born in Hayti, an African American community located in Durham, North Carolina to Alma Ruth Davis and William C. Talley. His parents often left him in the care of his grandmother, Bennie Davis, who raised him, and, as he claims, gave him a true understanding of "luxury."[4] After graduating from North Carolina Central University, Talley received his master's degree in French from Brown University; and, while at Brown, he befriended students from the nearby Rhode Island School of Design and frequently accompanied them on weekend trips to New York City. He is now associated with former American Vogue editor-in-chief and Costume Institute consultant, Diana Vreeland. His first industry job was as an assistant for pop art icon, Andy Warhol for the infinitesimal wage of $50 a week.
In the early 2000′s, an intervention was initiated by Anna Wintour to get Talley to lose weight; as seen on The Oprah Winfrey Show, he eventually shed some serious poundage, and began eating more healthily as a result.
In 2008, Talley advised the future First Family on fashion, and introduced Michelle Obama to Jason Wu, from whom she bought several dresses including her inaugural gown.[5]
He had a cameo appearance in the 2008 movie Sex and the City as a Vogue executive, and he also appeared in the movie/documentary about the Italian couturier Valentino Garavani, Valentino: The Last Emperor and in the behind-the-scenes fashion documentary, The September Issue.
Books
Talley wrote an autobiography entitled A.L.T.: A Memoir, published in 2003.[4]
He also authored A.L.T. 365+, an art monograph designed by art director Sam Shahid, published in 2005. 365 features photos and captions from one year in the life of André Leon Talley.[6]
"It's not about canceling shows, but initiating things on an individual level. When much is given to you, much is expected. If you're an honest American, you can't wake up and not be affected by the neglect of the government after Katrina. You can't be an honest American and not think about it every day."
Andre Leon Talley quote
About the Author
@anthonythomasMM
A visionary of fine arts whether it be music, Graphic Design, Fashion, Or Photography. Currently you can find him creating his Online Tv station "ATHD" featured on the http://blackpoolofgenius.blogspot.com were it streams live shows, movies and videos. He Also guest Blogs at http://PolaroidPlumber.tumblr.com #teamplumber & http://Gryphandcastro.tumblr.com . "Student , Seeker of Knowledge are the essential characteristics i live by".